Lead Pastor: Thanga Nohro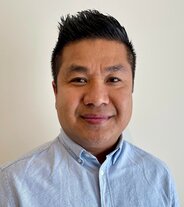 Thanga Nohro and his wife Christina have been married since November of 2008. They have four children, Naomi, Natalie, Nora, and Noah.
Thanga was with 'Youth With a Mission' for over 16 years, serving primarily in the southern part of India and the United States. He served at various churches as a worship leader for more than five decades in India. Thanga and his family moved to Canada in 2018 and have served as an associate, a worship Pastor and now am Lead Pastor at Wasaga Community Church .
We are a Christian Church committed to declaring the truth, mentoring the willing and serving the many. In short, our church is about preaching the Gospel, discipleship and serving!
I would like to personally invite you and your family to come and be a part of our worship service here at WCC.

Families Ministries Co-Ordinator: Christina Nohro
Christina Nohro has served as a missionary in India for over 14 years; however she is excited to be back in her home town of Wasaga Beach. She and her husband, Thanga, have four children, and have been serving on the pastoral team at WCC for over 5 years. Christina has trained with 'Youth With A Mission' in family and children ministries and has used the skills learned to lead women's bible studies, mothers & toddler cell groups and to counsel at-risk and abused women and disciple children. Christina also has many years of experience as a youth leader locally, and in India, where she has discipled young people. Christina has much experience evangelizing throughout Asia and locally and counts it an honor to serve the children of Wasaga Beach in this way.



Tranistional Pastor: Rev. Jonathan (Jon) Dart
Rev. Jonathan Dart began ministry in Eastern Ontario as a missionary regional director with Child Evangelism Fellowship, in 1980. In 1989 he assumed a number of responsibilities in the GTA with CEF, including evangelism training and staff mentoring. In 1997 he began a combined ministry as youth and worship pastor at a local church and as a Regional Resource Consultant with Cook Communications Ministries (formerly David C. Cook publishing), which involved church curriculum assessment and training of Sunday School teachers. In 2004, Jon began full time pastoral ministry, first in Hepworth Ontario, and later, in 2014, in Charlottetown, PEI. He now ministers with Vision Ministries Canada as a Transitional Leader. Jon holds two Bachelor degrees in pastoral ministry from Emmanuel Bible College, as well as a Masters degree in church ministry from Moody Bible Institute. He and his wife Marilyn live in Midland, and have two children and five grandchildren, also living in Ontario